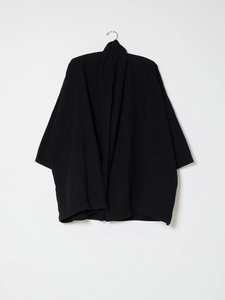 Atelier Delphine's signature Haori Coat, inspired by traditional kimono jacket details. Relaxed, oversized and unisex fit with two hip pockets. Made with 100% Organic cotton imported from Japan. Also available in Stone.

Machine wash with gentle cycle / hand wash / low tumble dry
About Atelier Delphine
Atelier Delphine was founded by Yuka Izutsu in March 2011 out of a desire to communicate a personal aesthetic and craft romantic loungewear for the modern woman made for curling up, settling in, and celebrating leisure. Evergreen styles include standout kimono jackets, dolman sleeves draped to perfection and easy dresses.
With collections executed in muted colors and the highest quality fabrics, Delphine's pieces are meant to serve as a sanctuary from trend-driven fast fashion - a seamless and complimentary addition to Phosphene. Read more about Yuka and Atelier Delphine on the Phosphene Journal.