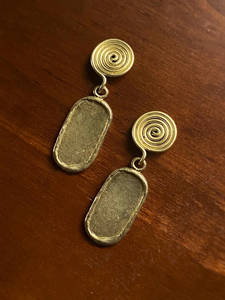 Meaning 'inner, hidden, obscure, or concealed'. The Akirah Spirals offer a whimsical touch to these timeless, lightweight earrings.
2" length made of solid brass with sterling silver backings. Handcrafted artisan quality.
How to care for brass jewelry: Store jewelry in it's original packaging or a jewelry box that seals out light, dust particles, and moisture. Brass naturally develops a patina, which over the course of time adds dimension, character, and beauty with age.
An easy way to get the look is to avoid polishing and let oxygen & your natural body chemistry create a 'living' finish. Polish from time to time if you'd like to maintain the original shine & brightness.
 About Mahnal

"I want women to feel at home with Mahnal. A space of sanctuary. As I design, my hope is to connect a part of my spirit and other women's in a way that creates a bond. A bond of commonality in learning to be gentle with ourselves as we grow from who we were to who we will to become. I started designing as a way to express and share my passions in life after studying design at the Institute of Art in Chicago. I was inspired to explore jewelry as a medium of expression after the transition of my father in 2014. I launched Mahnal full-time in 2018 in my home town of St. Louis, where I continue my mission to inspire and adorn." - Shayba Muhammad, Designer