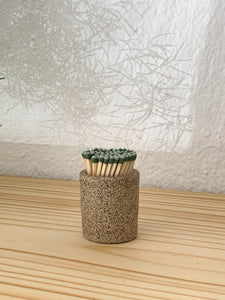 Wheel thrown vessel to strike matches on- matches included. Created exclusively for Phosphene by Alex Meltz of Newburgh, New York in Hudson Valley. Also available in raw natural clay.

Measures approximately 1.5" x 1.5".

Alex Meltzer is a Hudson Valley based ceramic artist. She creates functional and sculptural work inspired by nature, travel, design and tradition. Each piece is handmade and unique, intended to serve as both a memento and an object to be enjoyed every day. Working with stoneware, you will find variations of both hand built and wheel-thrown techniques to create her pots.