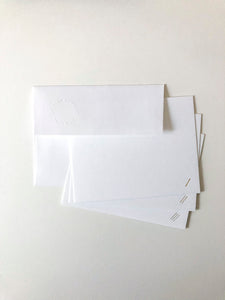 lines : the basis of all illustration, we use lines to organize, add style, enhance comprehension, connect + separate information 

Single A2 flat bright white note card with gold foil letter press 'III' design + matching envelope, handmade by Tiny Bones Press in New York.
About Tiny Bones Press:
A collection of thoughtful paper products, each conceptualized, illustrated and designed in house by founder Megan in New York. All pieces are hand-fed letterpress or foil (one by one) on vintage presses. This slow process allows for every piece of printed material to be produced by hand - quality is at the forefront. The line is made of fully recyclable materials and packaging (yes, even the stickers and their adhesive of full recyclable materials or compostable!) The papers worked are made from recycled (often discarded) materials, fully recyclable on their own. Tiny Bones Press's ethos is rooted in connection and relationships - about small details having the capacity to ignite and inspire bigger things.