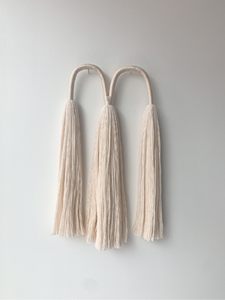 Hand-wrapped tassel wall hanging made with 100% cotton.

Approximately 10" wide x 18" long

About Elytra Textiles:
Elytra Textiles specializes in small batch and custom hand-woven fabrics designed and woven by Chelcie Wudtke. Founded in 2013, Elytra (pronounced el-uh-truh) is a one woman operation located in the Lincoln Square neighborhood in Chicago, IL. All fabrics are hand-woven from cotton and bamboo fibers on an 8 harness wooden floor loom.