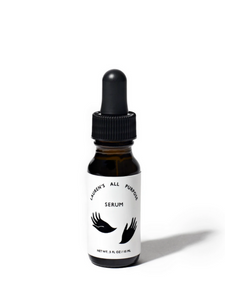 The perfect 100% organic oil blend for dry, dull facial skin. Use daily for glowing, nourished, just-got-a-facial feels.
This product, like Lauren's All Purpose salve for body, is renowned for being multi-use:
As a Serum: After cleansing, use 4-6 drops of LAP Serum directly on the face. This light, healing oil works well layered under other products or simply by itself!
For Hydration: Place 10 drops in your hand. Spray your face spray or hydrosol 1-2 inches away from the oil in order to emulsify the liquid in the oil. Use on clean skin.
As an Oil cleanser: Use 8 drops on dry skin. Rub in between your fingers and then massage into your face for 2-3 minutes. Watch as your pores begin to release the dirt, dead skin etc. that's stuck in them. It's like a natural Bioré strip. Best to do this after the shower. 
For Ingrown Hairs: Use directly after shaving to help prevent pesky ingrown hairs.
This listing is for one 0.5 oz bottle.

INGREDIENTS (organic and active):
Hemp seed oil: This lightweight oil is non-comedogenic so it does not clog pores thus it's perfect for all skin types. Holds the same molecular shape as the oil your skin makes naturally so it will penetrate all the way past your skin to the hair follicles- DEEP moisture. It's also a humectant, meaning it holds 100x times its weight in water. 
Burdock root: This extremely anti-inflammatory root has been used for 1000s of years in TCM to treat all sorts of skin conditions including eczema, acne and psoriasis. Reduces redness and irritation. 
Rose Otto oil (sourced from Bulgaria): Considered to Queen of Oils, Rose Otto oil is for mature, aging skin. Stimulates circulation and tones boosts collagen network. Rejuvenates tired-looking skin. Balances combination skin. Give your face a regal boost! 
The Lauren's team infuses 100% organic Hemp Seed Oil with Burdock root for 6 weeks. The Burdock root is strained out of the oil. The infusion is then mixed with organic Rose Otto essential oil sourced from Bulgaria.